August 23, 2103

DA: Ex-Treasurer Of Upper Gwynedd Township Fire Company Stole $250K


MONTGOMERY COUNTY, Pa. (CBS) — The former treasurer of the Upper Gwynedd Township Fire Company stole money to fund trips, buy expensive jewelry and even to pay for his daughter's wedding in Las Vegas, authorities allege Friday.

Ronald Kenneth "Ken" Nolan was arrested and is facing numerous, including theft, for allegedly stealing nearly $250,000.

According to investigators, Nolan served as the treasurer of the fire company for 24 years. In December 2012, elections were held and Nolan was voted out from his position.

The incoming treasurer immediately began to examine the Fire Company's finances and discovered irregularities that led to a criminal investigation by the Montgomery County District Attorney's Office.

Through an audit and criminal investigation, authorities found that Nolan allegedly stole $249,703.77 of Upper Gwynedd Township Fire Company funds and used it for his personal expenses between 2006-2012, all while he served as the volunteer Treasurer of the organization.

Authorities say Nolan stole in two ways: cash advances from the Fire Company's bank accounts in the amount of $116,000.00 and two credit cards linked to the Fire Company's account to fund personal activities and expenses.

According to investigators, the expenditures included vacations to Florida, Jamaica, China and 15 trips to Las Vegas. In addition, it is alleged that Nolan used Fire Company funds to pay expenses related to his daughter's 2006 wedding celebration in Las Vegas, including airline transportation for wedding guests.

Nolan is also accused of using Fire Company funds to purchase jewelry, computers, clothing, spa visits and tickets to sporting events.

In addition, Nolan allegedly used the credit cards to withdraw thousands of dollars in cash from the Fire Company's account to gamble.

Nolan surrendered to authorities and was arraigned on Friday.

He has been charged with Theft by Unlawful Taking, Theft by Deception, Theft by Failure to Make Required Disposition of Funds Received, Access Device Fraud, Dealing in Proceeds of Unlawful Activity, and Misapplication of Entrusted Property.

On Friday afternoon, The Board of Commissioners of Upper Gwynedd Township released a statement that read in part:

"While the Board of Commissioners of Upper Gwynedd Township are concerned about the charges filed against Mr. Ken Nolan, the Board is confident that the financial position of the West Point Volunteer Fire Department is such that it will continue to provide the same level of services to the Township that we as residents have come to expect."


---

August 26, 2013

Theft charges in fire co. heat up Upper Gwynedd

Upper Gwynedd Township is heating up — over politics outside of its fire company and alleged criminal activity within it.

The controversy emerged last week, when Montgomery County District Attorney Risa Vetri Ferman announced the arrest of Ronald Kenneth Nolan, the former treasurer of the Upper Gwynedd Township Volunteer Fire Company, on charges including theft by unlawful taking in the case of $249,703.77 that went missing from fire company funds between 2006-2012.

Authorities allege that Nolan used the money to pay for personal expenses, including vacations to China, Jamaica, Miami, and 15 trips to Las Vegas. He also is said to have paid for gambling in Vegas casinos and costs associated with his daughter's 2006 wedding in Las Vegas.

Details are starting to emerge that paint a picture — an election-season picture — of the commission not heeding warnings from a fire company official, according to Upper Gwynedd resident Greg Moll, a lawyer who is active in the township's Democratic party.
Moll said Monday that commissioners did nothing when first approached with suspicions about a year ago that then-treasurer Nolan might be pocketing money.


He plans on going to Monday night's regularly scheduled commission meeting to ask them about why they didn't take action when they learned there might be a problem. Moll has heard that other residents or members of the fire company might attend as well.

Commissioners on Monday afternoon did not return a message asking for comment.
Joe Bifolco, president of the fire company, confirmed that he approached a commissioner in late August or early September last year suggesting that Nolan might be embezzling money. When commissioners offered no help, the nonprofit fire company itself paid $31,000 to an accounting firm to conduct a forensic audit.

Fire company officials ousted Nolan before auditors examined the records.

"We voted him out of office because we had a suspicion of misuse of funds," Bifolco said, "and we knew by removing him, it's just common sense, that gives us access to everything we had to get access to."

Bifolco said the audit the fire company paid for only looked for missing money up to $250,000 because its loss or theft insurance policy on all members covers up to $250,000.

"To me, it wouldn't have been financially responsible for us to continue counting past the amount we could collect from the insurance company," he said.
Ferman said Friday that her office would look at more records covering more years during Nolan's tenure.

The controversy isn't likely to go away soon. Moll said his concern about the theft charges were not related to politics. But a municipal election will be coming up in November, when two incumbents will face challenges from Democratic candidates.

Moll pointed out that he got involved after fire company members contacted him — and that there were both Republican and Democratic members who were upset about the whole episode.

Since the missing money was identified, the fire company has embraced a number of accounting reforms — including stripping the treasurer of signing authority over expenditures and requiring multiple officials' signatures for account transactions.

The department, whose annual budget is about $175,000, gets about $70,000 yearly from the township. It raises the rest itself.

---

September 4, 2013

Embezzlement Trial Ordered For Former Upper Gwynedd Fire Official

UPPER GWYNEDD, Pa. (CBS) — A former fire department official in Montgomery County has been ordered to stand trial on charges that he stole nearly a quarter of a million dollars while he was the company's treasurer for more than two decades.

Prosecutors believe they have a solid case against Ken Nolan, who waived his preliminary hearing on theft and related charges. The 62-year-old Skippack man was the former treasurer for the Upper Gwynedd Fire Company and spent more than 20 years as the township fire marshal.

Prosecutor Noah Marlier says Nolan stole the money by writing cash advances to himself and using two fire company credit cards. In doing so, Marlier says, Nolan compromised fire safety:

"This money that he took could have been spent on the firefighters that are putting themselves at risk every day, that are on the front lines, that are saving lines — that's what they are tasked to do."

Marlier says the money was spent on lavish vacations, tickets to sporting events, jewelry, and his daughter's wedding

Defense attorney Tim Woodward says Nolan confessed to what he did and is deeply remorseful, but would not offer an explanation for what happened.

---
November 5, 2014

Ken Nolan, ex-treasurer of Upper Gwynedd fire company, jailed for $250K theft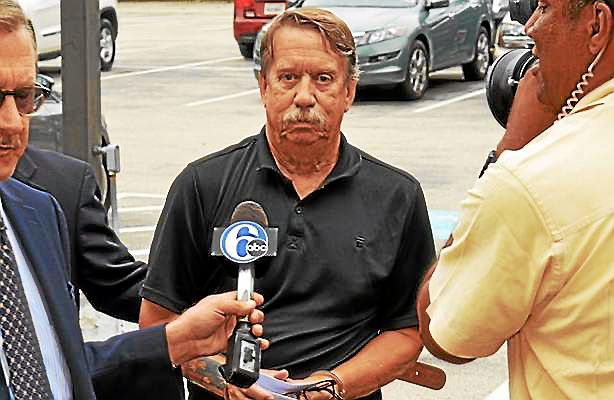 Norristown >> A Skippack man faces time in jail and a lengthy period of probation after he admitted to stealing about $250,000 while working as treasurer of the Upper Gwynedd Township Fire Department, reportedly so he could live a lavish lifestyle.

Ronald Kenneth "Ken" Nolan, 63, of the 4900 block of Skippack Pike, was sentenced in Montgomery County Court on Wednesday to 11 1/2 to 23 months in the county jail, to be followed by 10 years' probation, on charges of theft by deception, access device fraud, dealing in proceeds of unlawful activity and theft by failure to make required disposition of funds received in connection with thefts that occurred between January 2006 and December 2012.

Nolan, who pleaded guilty to the charges in March, also must pay a total of $271,766 in restitution to the fire department and its insurer. President Judge William J. Furber Jr. ordered Nolan, who is eligible for the jail's work release program, to pay the fire department first. Nolan was ordered to pay $2,000 in restitution each month until the debt is paid.

Nolan was treasurer, a volunteer position, of the fire company located at 660 Garfield Ave in Upper Gwynedd for 24 years until he lost his re-election bid in December 2012. Nolan also was a paid fire marshal for Upper Gwynedd for about 20 years.

With the charges, prosecutors and county detectives alleged Nolan, from 2006 to 2012, took unauthorized cash advances from the fire department's bank accounts to pay for jewelry, computers, clothing, sporting events, trips to Miami, Jamaica and China, and his daughter's 2006 wedding in Las Vegas, including airfare for wedding guests.

Assistant District Attorney Laura Adshead sought jail time against Nolan. At the time of Nolan's guilty plea, Adshead said Nolan "abused his position of trust with the fire company" and used the stolen money "for his own personal expenses and to live a lavish lifestyle outside of his means."

When a new treasurer replaced Nolan in December 2012, he examined the fire company's finances and found irregularities, according to a criminal complaint. In one instance, officials found a notation associated to the business management account that indicated about $3,000 worth of furniture had been purchased for the fire company. However, officials were unable to confirm that the fire company had received the furniture, according to the arrest affidavit.

In February 2013, Nolan sent an email to the president of the fire company, admitting to stealing funds from the company.

"Ken Nolan advised he does not know the amount of funds he stole, because he did not keep records," county Detective Joseph P. Kelly Jr. alleged in the criminal complaint.

A forensic auditor found that between January 2006 and December 2012 Nolan stole $249,703 from the fire company, according to the arrest affidavit.

In addition to using fire company funds to pay for trips, his daughter's wedding, computers, and sporting events such as Flyer's hockey games, Nolan "used the fire company credit card for cash advances totaling thousands of dollars to fund his gambling habit," according to arrest documents.

"Ken Nolan used fire company funds to pay for 15 trips to Las Vegas including his airfare and the airfare of guests, staying at hotels and spas," Kelly alleged. "He unlawfully opened a business management account from which he made purchases unbeknownst to the fire company officers. These purchases had no association to the operation or benefit of the fire company…"

The fire company is a non-profit entity, which operates on funds received from numerous sources including taxes collected by the township, grants from the state, private donations and fundraising activities, according to court papers. The fire company has a mutual aid agreement with Lansdale and North Wales and Lower Gwynedd, Montgomery, Towamencin, Whitpain and Worcester townships.

Defense lawyer Timothy Woodward, who represented Nolan, previously said Nolan is "deeply regretful for his behavior." Woodward has said Nolan wants to do whatever is necessary to pay back the department.