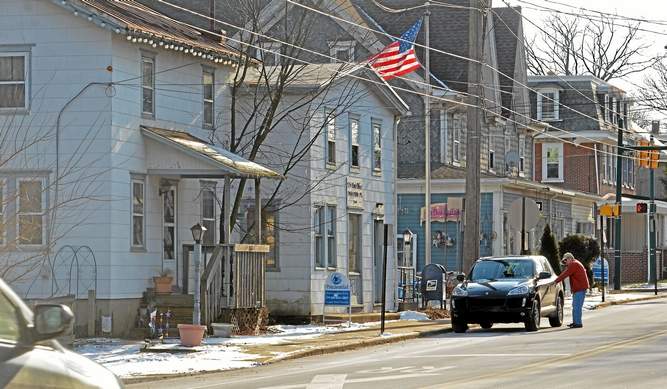 West Point Pike in West Point. (The Reporter/GeoffPatton) Follow on Twitter @GeoffPatton
By bschlegel@thereporteroline.com

Posted: 02/04/13, 5:27 PM EST
______________________________________________________________________________________________________

UPPER GWYNEDD -- After several years of delays, construction of the proposed streetscape
renovations in the West Point Village of the township could begin this year, according to Commissioner
Clare Edelmayer.

Last month, the township's board of commissioners approved a $4,000 contract with a Philadelphia
real estate firm to prepare appraisals for seven properties on West Point Pike between Park Road
and Jones Avenue.

On Monday, Edelmayer said construction of the project to install period lighting, crosswalks and sidewalks
in that portion of West Point Pike could begin this year.

The commissioner also said the work being completed by PJL Reality Advisors, Inc. is the final required
work before township officials can open the project to bids

A $300,000 federal grant procured by U.S. Rep. Allyson Schwartz, D-13th District, and distributed by
the Pennsylvania Department of Transportation will fund the installation of lighting intended to remind
residents of the village's relationship with the railroads plus the decorative concrete work in nearby
crosswalks, according to township Manager Len Perrone.

He has called the project an attempt to beautify West Point Village, one of the most historic sections of
the township.

The village, which dates back to the 19th century, had an active rail line, a train station constantly handled
freight and the community provided a stop for a trolley line, Perrone said.

Originally, the property owners agreed to allow municipal officials to take a certain portion of land to allow
the work, according to Edelmayer.

She says PennDOT required the township to conduct appraisals before purchasing the property.

"This project has been dragging on and on." Edelmayer said. "Hopefully we can get it to bid sometime this
year. Everything else, in terms of meeting PennDOT's requirements, is done."

PennDOT will proceed with the bidding of the project and the township will select a project inspection engineer,
Perrone said. In a Monday email, he expressed hope that the project "will begin and be completed this summer."

Township officials unveiled the proposed streetscape in the fall of 2008 after spending most of the previous
10 months working out the details with a committee of residents.

UPDATE: 04/24/2015
A set of bids for the West Point streetscape project were recently rejected by PennDOT due to a problem with
qualifications of the lowest-bidding contractor. That project will be rebid in early May and work now looks likely
to take place from August through November, according to UG township engineer Russ Benner.